Introduction
Ian Fyfe & Stuart Moir

Lecturer University of Edinburgh
Abstract

For over 20 years Concept has been engaging critically with theoretical ideas and policy discourses that shape youth work practice. Over that time, the journal has published a diverse range of articles and reviews focussed on aspects of youth work from the perspective of practitioners and academic commentators alike. In 1998 Concept published an edited collection of articles relating to youth work theory and practice entitled Conceptualising Youth Work: Back to the future.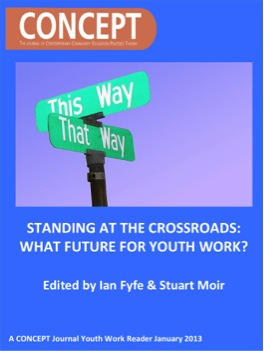 How to Cite
Ian Fyfe & Stuart Moir, (2013) "Introduction", Concept, p. 3. Available at: http://concept.lib.ed.ac.uk/article/view/2361 (Accessed: 5December2020).

This is an Open Access journal. All material is licensed under a Creative Commons Attribution-NonCommercial-ShareAlike 4.0 International (CC BY-NC-SA 4.0) licence, unless otherwise stated.
Please read our Open Access, Copyright and Permissions policies for more information.