Standing at the Crossroads – What future for Youth Work?
Ian Fyfe & Stuart Moir

Lecturer University of Edinburgh
Abstract

The collection of papers in this reader straddle a period of significant political change. The first decade of the twentieth century will inevitably be synonymous with the ongoing global economic crisis.  In this opening paper we map out the journey ahead for youth work with a glance back over some key markers of the past decade that have shaped the priorities for contemporary practice. Symbolically, youth work appears to be a crossroads - looking to the past for inspiration in order to make better sense of the current context and ultimately gauge the best way forward. There are choices, albeit limited, about which direction to take. The available routes ahead are significantly shaped by the political and policy imperatives of government. Metaphorically, reliance on a 'GPS' to inform the future journey for youth work is likely to be locked into the priorities of the state; subsequently the directions for practice are predetermined. We conclude that the future challenges for youth work practitioners include a need to critically take stock of the ever-changing context in order to assist in taking the best steps forward.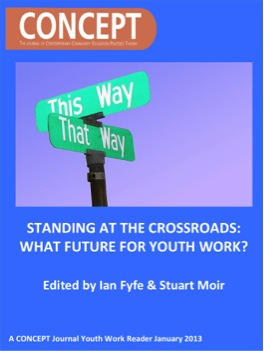 How to Cite
Ian Fyfe & Stuart Moir, (2013) "Standing at the Crossroads – What future for Youth Work?", Concept, p. 13. Available at: http://concept.lib.ed.ac.uk/article/view/2362 (Accessed: 5December2020).

This is an Open Access journal. All material is licensed under a Creative Commons Attribution-NonCommercial-ShareAlike 4.0 International (CC BY-NC-SA 4.0) licence, unless otherwise stated.
Please read our Open Access, Copyright and Permissions policies for more information.