Does youth have a future?
Stuart Waiton

Lecturer University of west of Scotland
Abstract
There are problems with 'behaviour' today, some old problems, some new, but there is also a preoccupation with behaviour, an exaggerated sense that young people are out of control.
This sense of disorder is not based on nothing, it is not a simple figment of our imagination, but it is often overstated (O'Neill 2004). The media are often blamed for this situation, for pasting 'Neds', 'Yobs' and so on, on their front pages and depicting young people in an overly negative light. But at a time when the behaviour of young people has been so politicised, when politicians talk of a 'yob culture', and when antisocial behaviour initiatives have become political issues at a local and national level, it is hard to blame the media for what has been made into a major social issue and debate over recent years. The behaviour of young people is clearly also an issue that resonates with the wider public, for example, in a recent report by the Institute of Public Policy Research (IPPR) entitled Freedom's Orphans it was noted that, in the UK, adults are indeed, 'scared of the kids' (Margo and Dixon 2006).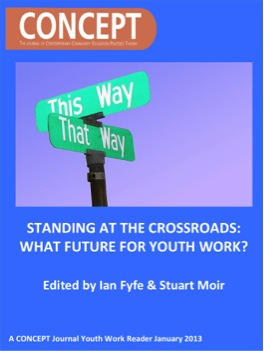 How to Cite
Waiton, S. (2013) "Does youth have a future?", Concept, p. 7. Available at: http://concept.lib.ed.ac.uk/article/view/2369 (Accessed: 30November2022).

This is an Open Access journal. All material is licensed under a Creative Commons Attribution-NonCommercial-ShareAlike 4.0 International (CC BY-NC-SA 4.0) licence, unless otherwise stated.
Please read our Open Access, Copyright and Permissions policies for more information.