Are we really moving forward? Evaluating the impact of the national youth work strategy.
Abstract
In March 2007, the serving Labour Executive in the Scottish Parliament published a national youth work strategy entitled 'Moving Forward: a strategy for improving young people's chances through youth work'. The strategy outlined the Executives blueprint for youth work provision over a three-year period and was informed by over 3000 responses to a consultation exercise that preceded its publication. The framework received further support in 2007 when the newly elected SNP Government adopted it wholesale.
The strategy's launch came with significant resources, with £11m made available to youth work providers across the country to date. As a practitioner co-ordinating youth work provision in South East Edinburgh, I, like other colleagues, welcomed and benefited from this much needed funding boost. At the time, the youth and community work sector throughout the country was becoming aware of looming budget cuts to our traditional funding streams. Against this backdrop, colleagues were understandably relieved by the cash that came with the national strategy - too many of us faced the prospect of going out of business fast.
In hindsight however, perhaps we should all have been a bit more curious about the detail of the publication and its potential impact upon the youth work sector throughout Scotland: it is to this end, a critical evaluation, that the rest of this paper is devoted. I will argue that there are tensions deriving from the way in which youth work is framed and conceptualised within the strategy document that could have a negative impact upon the sector in future years.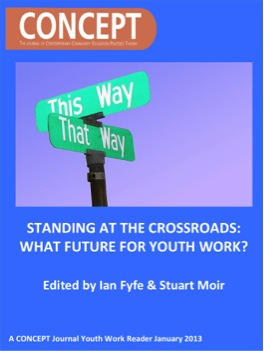 How to Cite
Bell, M. (2013) "Are we really moving forward? Evaluating the impact of the national youth work strategy.", Concept, p. 13. Available at: http://concept.lib.ed.ac.uk/article/view/2370 (Accessed: 5December2020).

This is an Open Access journal. All material is licensed under a Creative Commons Attribution-NonCommercial-ShareAlike 4.0 International (CC BY-NC-SA 4.0) licence, unless otherwise stated.
Please read our Open Access, Copyright and Permissions policies for more information.