Forever Young? Youth Work Then and Now
Abstract
This is a special issue of Concept which considers the changed and changing landscape of youth work in the UK.  It includes contributions which take a backward look in order to locate present day developments, articles which reflect on contemporary themes, issues and practices, and interviews with current youth workers who are striving to manage the contradictions of politics and policy for young people, on the ground. 
Editors: Mel Aitken & Mae Shaw
Youth Work: A 2020 Vision- Editorial Introduction: Ian Fyfe
'Open' Youth Work in 2019: A backward look: Bernard Davies
Youth Work: Converging and diverging responses in Scotland: Annette Coburn and Sinead Gormally 
The decline of the Local Authority Youth Service in England: Reflections of an actor in its demise: Tony Taylor
'That was another moment where people were like wow! These young people have really done something!': Christina McMellon
Relocating place in the life of neo-liberal youth: Alan Mackie
On the Ground!: Sabrina Tickle, Karen Anderson & Gemma Burns
Cover image: Special thanks to Caitlyn McFarlane.  Her art can be followed on Instagram under the name c8s_art.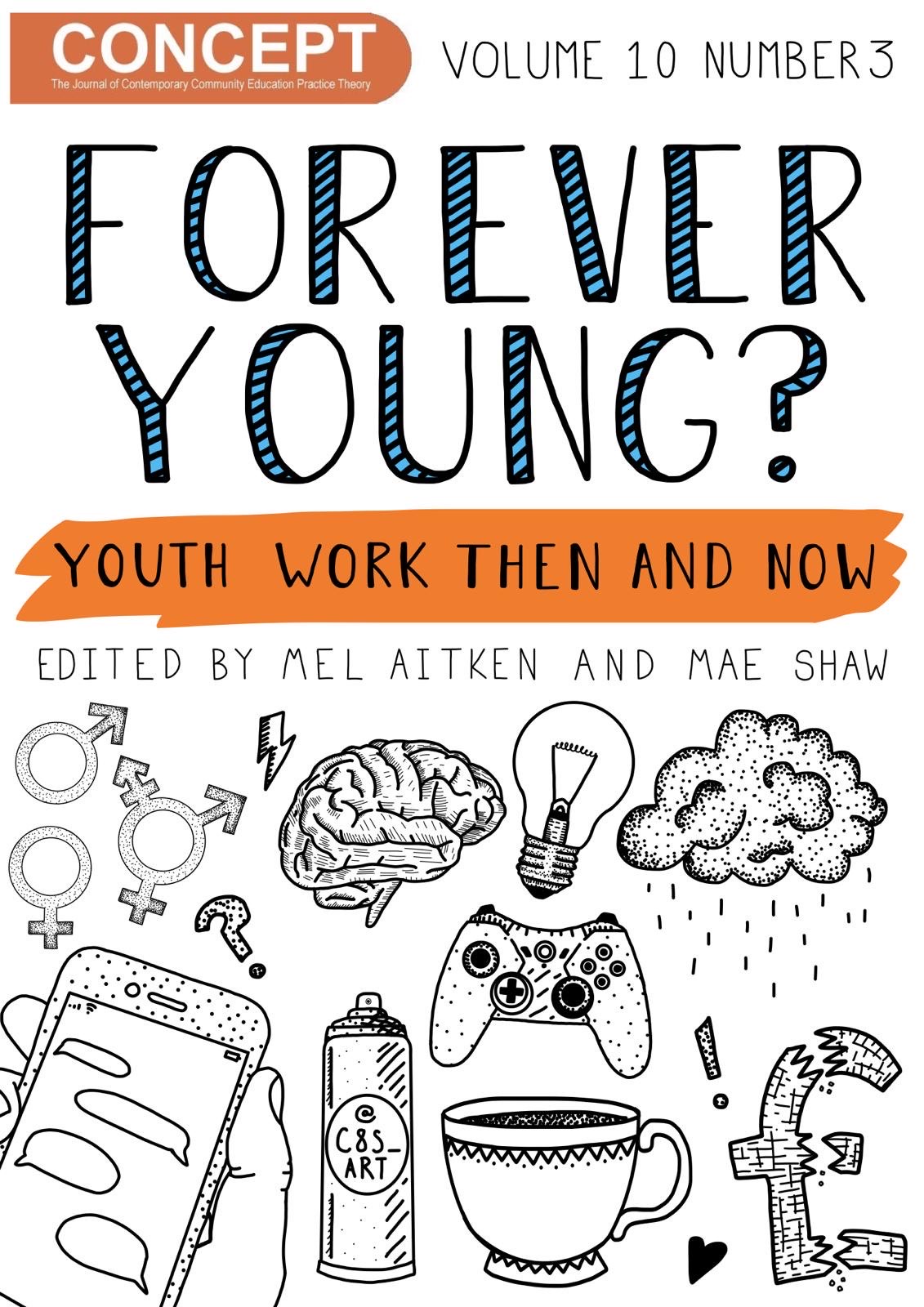 How to Cite
Aitken, M. and Shaw, M. (2019) "Forever Young? Youth Work Then and Now", Concept, 10(3). Available at: http://concept.lib.ed.ac.uk/article/view/4170 (Accessed: 29September2023).
Section
Full Issue (PDF format)

This is an Open Access journal. All material is licensed under a Creative Commons Attribution-NonCommercial-ShareAlike 4.0 International (CC BY-NC-SA 4.0) licence, unless otherwise stated.
Please read our Open Access, Copyright and Permissions policies for more information.