Concept
The Journal of Contemporary Community Education Practice Theory. The Concept Journal offers a lively independent forum for critical debate and exchange of ideas in contemporary Community Education. Community Education is seen in the broadest sense to include community work, adult education and youth work and takes place in a range of settings and agencies. We see the concept of community education as dynamic and diverse and do not seek to reflect a fixed view.
Current Issue
Vol 9 No 3 (2018): Special Anniversary Issue: Pedagogy of the Oppressed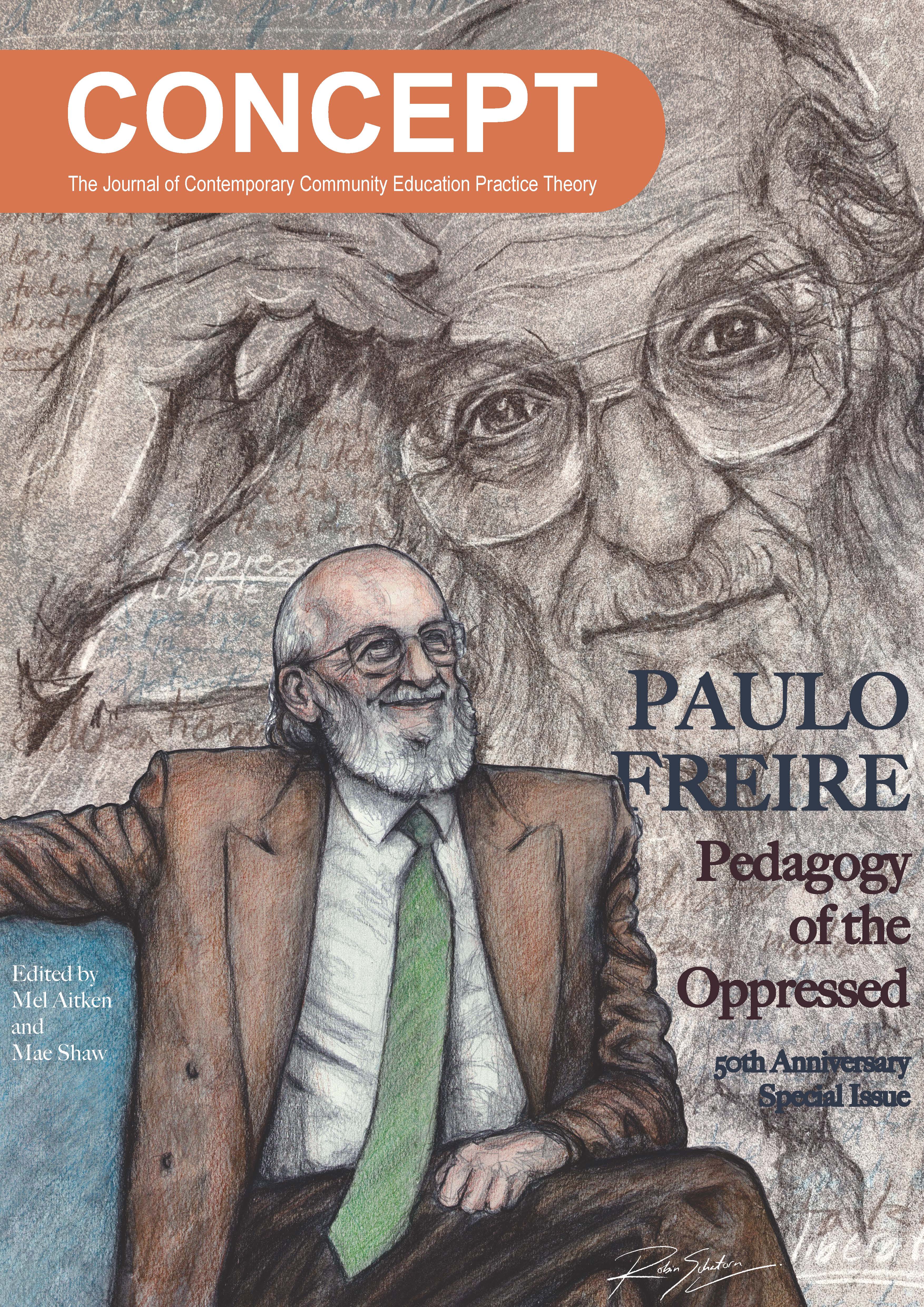 This is a special issue of CONCEPT journal celebrating the 50th anniversary of the publication of Paulo Freire's Pedagogy of the Oppressed. We regard the Special Issue as a fitting tribute from a range of distinctive voices to perhaps one of the most distinctive, compelling and (still) contemporary voices in popular education. 
Editorial: Mel Aitken and Mae Shaw
Why Freire still matters: Jim Crowther and Ian Martin
Reclaiming the radical agenda: Paulo Freire in neoliberal times: Margaret Ledwith
A Northeastern Brazilian: Memories of Paulo Freire: Budd L Hall
The road not taken: The road still open: Colin (with Gerri) Kirkwood
What Freire means to me: Lyn Tett, Louise Sherida and Christina McMellon
Pedagogy of the oppressed and the power of big words: Nicky Bolland and John Player, CAMINA
Pedagogy of courage: For a spiritual materialist praxis of humanisation in critical pedagogy: Joel Lazarus
Freire at the ceilidh! Community dance as a training for dialogue: Stan Reeves
Why Gramsci offers us a framework for understanding the work of Freire: And why their work is crucial at this time.: Keith Popple
In solidarity: international reflections
Freire at the University - Emilio Lucio-Villegas
Reflections on popular education in the context of Latin America and the Caribbean - Viviana Cruz McDougall
Celebrating Freire: A message of solidarity from South Africa - Astrid von Kotze
Review: The student guide to Freire's Pedagogy of the Oppressed, Antonia Darder, (2018): Bill Johnston
View All Issues