Special Anniversary Issue: Pedagogy of the Oppressed
Keywords:
Paulo Freire, Critical Pedagogy, Pedagogy of the Oppressed
Abstract
This is a special issue of CONCEPT journal celebrating the 50th anniversary of the publication of Paulo Freire's Pedagogy of the Oppressed. We regard the Special Issue as a fitting tribute from a range of distinctive voices to perhaps one of the most distinctive, compelling and (still) contemporary voices in popular education. 
Contents
Editorial - Mel Aitken & Mae Shaw
Why Freire Still Matters - Jim Crowther/Ian Martin
Reclaiming the radical agenda: Paulo Freire in Neoliberal Times - Margaret Ledwith
A Northeastern Brazilian:  Memories of Paulo Freire - Budd L Hall
The Road Not Taken: The Road Still Open - Colin & Gerri Kirkwood
What Freire Means to Me - Lyn Tett, Louise Sheridan & Christina McMellon
POTO and the Power of Big Words - CAMINA
Pedagogy of Courage - Joel Lazarus
Freire at the Ceilidh - Stan Reeves
Why Gramsci offers us a framework for understanding the work of Freire - Keith Popple 
In solidarity: international reflections;
Freire at the University of Seville - Emilio Lucio-Villeg
Reflections on Pop Ed in Latin America and the Caribbean - Viviana Cruz McDougall
A message of solidarity from South Africa - Astrid von Kotze
Review: A Student Guide to POTO - Bill Johnston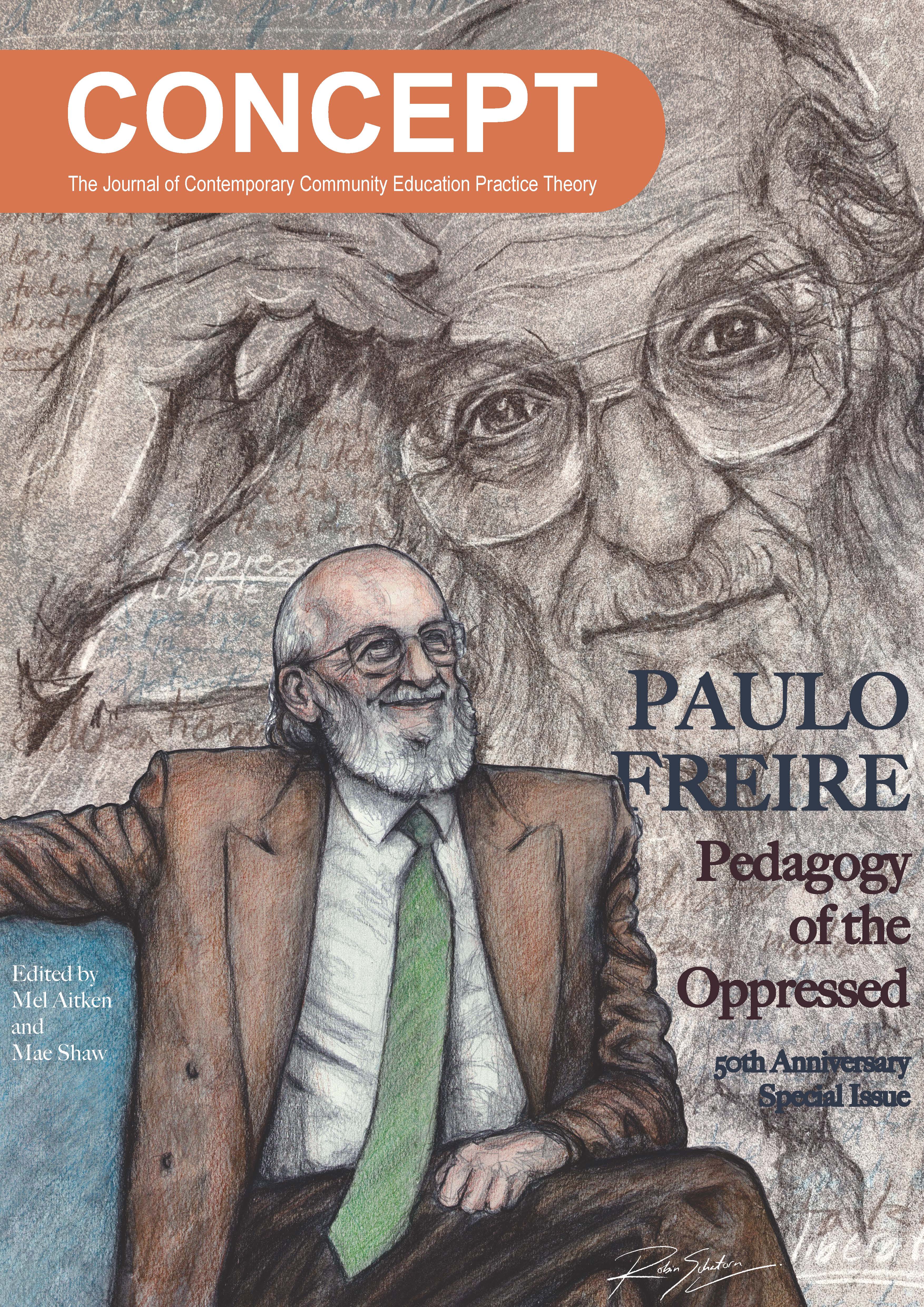 How to Cite
Aitken, M. and Shaw, M. (2018) "Special Anniversary Issue: Pedagogy of the Oppressed", Concept, 9(3), p. 101. Available at: http://concept.lib.ed.ac.uk/article/view/2849 (Accessed: 10December2023).
Section
Full Issue (PDF format)

This is an Open Access journal. All material is licensed under a Creative Commons Attribution-NonCommercial-ShareAlike 4.0 International (CC BY-NC-SA 4.0) licence, unless otherwise stated.
Please read our Open Access, Copyright and Permissions policies for more information.